Ribera del Duero Wine Trip
Calling all wine lovers to the Golden Mile of Wine!!! 
Welcome onboard this new Exclusive Wine Trip to the motherland of Spanish Wine…Ribera Del Duero!
Ribera del Duero Wine Trip
On this Exclusive Experience you will get to visit the mother land of the Spanish wine, the Golden Mile of Wine, Ribera del Duero.
Hotel
You will enjoy a three night stay at the picturesque AF Pesquera Hotel at Peñafiel. A stunning hotel that has its very own Bodgea and Wine Bar…you would not expect less coming from one of the most potent Spanish Wine brands in the region.
The wines of Familia Fernández Rivera are not the only selling point of the AF Pesquera. The hotel's location is perfect for enjoying wine tourism to the fullest. You'll find dozens of wineries, spectacular museums and tourist attractions in its surroundings. You also have the possibility of renting a bike at the hotel reception so that nature lovers can discover the route of the Douro.
Visit to selected Bodegas
Bodega Emilio Moro 
The history of bodegas Emilio Moro goes back three generations. The head of the family, their Grandfather, was born in 1891 and Emilio Moro in 1932, both were born into the viticulture environment surrounded by vineyards, and grew up treading grapes and racking wine in their native village of Pesquera de Duero in the province of Valladolid.
Emilio Moro taught his son, Emilio to love wine and he, in turn, taught his sons José and Javier Moro. The winery is currently run by the third generation.
Some of their best-known vineyards are: Resalso, planted the year Emilio Moro was born (1932), with deep, cool soil; Valderramiro, with the winery's oldest bush vines and birthplace of their great single-estate wine Malleolus de Valderramiro; Sancho Martin, with excellent ripening conditions, providing tannic wines with a marked acidity, ideal for ageing; and Camino Viejo.
Protos Bodega
The reputation of Ribera del Duero, not only lies with Pesquera but also with another local giant…Protos. The story begins with Bodegas Protos, established in Ribera in 1927. The pioneers were a group of 11 childhood friends, who set up their winery in the dramatic hilltop castle town of Peñafiel. Appropriately, the winery took its name from the Greek word 'protos' (πρῶτος) meaning 'first'.
The venture proved to be an immediate success, when its first vintages –1927 and 1928 were awarded gold medals at the Universal Exposition of Barcelona in 1929. No wonder the winery's motto is ser primero: be first.
Over subsequent decades, Protos continued to pursue excellence in its wines, expanding as more families joined the venture. In 1970 it constructed a winery purpose-built for the ageing of its red wines, with over 2km of underground tunnels running beneath Peñafiel Castle.
Bodegas Pago de Carraoviejas
Pago de Carraovejas began life in 1988 in Peñafiel, right in the historic centre of the Ribera del Duero, and on the region's most famous estate. Under the direction of Tomás Postigo (oenologist) and Emilio Arranz (head of viticulture), these 60 hectares of vineyards produced their first harvest in1991.
Planted at an altitude of 750 m, the estate extends over gentle, sweeping slopes, facing south-west and on well-drained soil (sandy, limy, stony and deep). The vines, 75% Tinta del País and 25% Cabernet Sauvignon, are trained on trellises.
The best grapes are transported, destemmed and without being crushed, to the fermentation tanks, specially designed with a large diameter (flat-bottom) to enable greater contact with the skins and thus obtain a more efficient maceration. Furthermore, the winery has been planned so as to avoid using peristaltic pumps. There are 30 tanks holding 25,700 litres each and 3 with 6,500 litres. The ageing process takes place in French and American oak barrels, new and first fill, and the winery has a total production capacity of 500,000 litres. It is most definitely a hallmark of distinction, "Pago de Carraovejas", which distinguishes these wines from the rest of the denomination.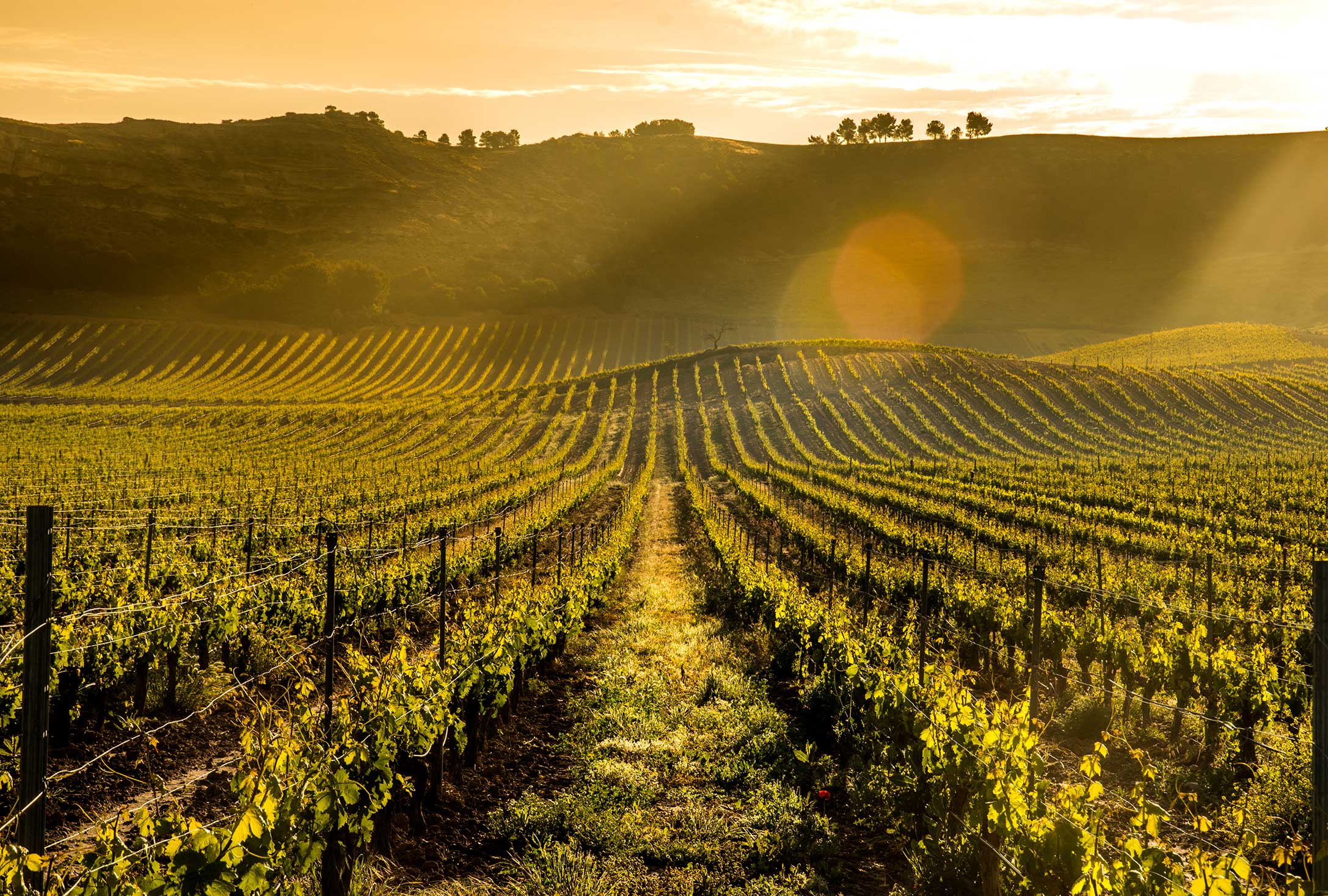 Bodega Peñafalcon
Bodegas Peñafalcón is a winery with a long family tradition headed by Casimiro Marcos and his wife María José Arranz.
The origins of the winery go back to the ancestors of the current owners, who made their wine in the old wineries, which date back to the 17th century. The culture of wine and the love for the creation of these elegant wines has been passed down from generation to generation until Casimiro de Peñafalcón, who made his wine in small quantities every year and enjoyed it with family and friends.
In the year 2000 Casimiro made his dream come true and went on to elaborate and market his wines under the denomination of origin Ribera del Duero, in Peñafiel, baptizing the winery with the historical name of Peñafalcón, which was the name of this town in the 11th century. and remembering the 'Rhymed Chronicle of the Poem of Mío Cid': Rodrigo won the battle, God be praised, until Peñafalcón, do is called Peñafiel !! Where they change Peñafalcón by Peñafiel.
Date: 7th – 10th February 2021
Collection point: Frontier Spanish Side
Departure Time: 07:00hrs
Price: 
£785 Single person with a twin room (hotel has no single rooms)
£675 per person when sharing a twin/double room.
Clients can secure their bookings with a deposit of £700 (those booking in pairs) or £400 for single bookings. Remainder will need to be settled by 15th January 2022.
Included:
3 Nights accommodation with breakfast at AF Pesquera Hotel****
Bus transfers (4)
Ave & Rail Train tickets (2)
Tour of 4 wine bodegas with wine tasting
Taxi transfers whilst in Peñafiel (4)
Group representative / escort
Not included:
Lunch or Dinner
Visit to other touristic attractions during free time
Planned Itinerary
Day 1 – Trip to Peñafiel
07:00hrs – Collection from Spanish Side of Frontier
10:28hrs – Malaga Ave to Madrid
13:09hrs – Arrive at Madrid Atocha
14:10hrs – Madrid Charmartin Train to Valladolid
15:16hrs-  Arrive at Valladolid
16:16hrs – Arrive at AF Pesquera Hotel in Peñafiel
16:16hrs onwards – Free time
Day 2 – Visit to Emilo Moro & Protos Bodegas
Morning – Free Time
10:30hrs – Emilio Moro Tour and Wine Tasting
13:00-17:00hrs – free time
17:00-19:00hrs – Protos Bodega Tour and Wine Tasting
19:00hrs onwards – free time
Day 3 – Visit to Pago de Carraojievas and Peñafalcon Bodegas
11:00-13:30hrs – Pago de Carraoviejas Bodega Tour and Wine Tasting
14:00-16:00hrs – Free Time
16:00hrs – Peñafalcon Bodega Tour and Wine Tasting
18:00hrs onwards – Free time
Day 4 – Return trip to Gibraltar
08:30hrs – Collection from AF Pesquera Hotel
10:07hrs – Train from Valladolid to Madrid
11:15hrs – Arrive in Madrid
12:35hrs – Ave to Malaga
15:25hrs – Arrive at Malaga Train Station
15:40hrs – Collection from Malaga Train Station
18:00hrs – Drop off at Spanish side of Frontier
Please note: You must bring your Passport and Local ID Card and also any proof of COVID vaccination or a COVID Negative Test result less than 2 days old. COVID Masks will be required to be worn on the bus and venues in Spain. None compliance of the above will render the participant unable to go on the trip and money not refunded.
T&C
Minimum group (8) numbers need to be met for the Wine Trip to be financially viable, should these numbers not be met, clients will be refunded their payment in full. Train tickets & other fees may be incurred if clients cancel at any point after these have been purchased on their name.